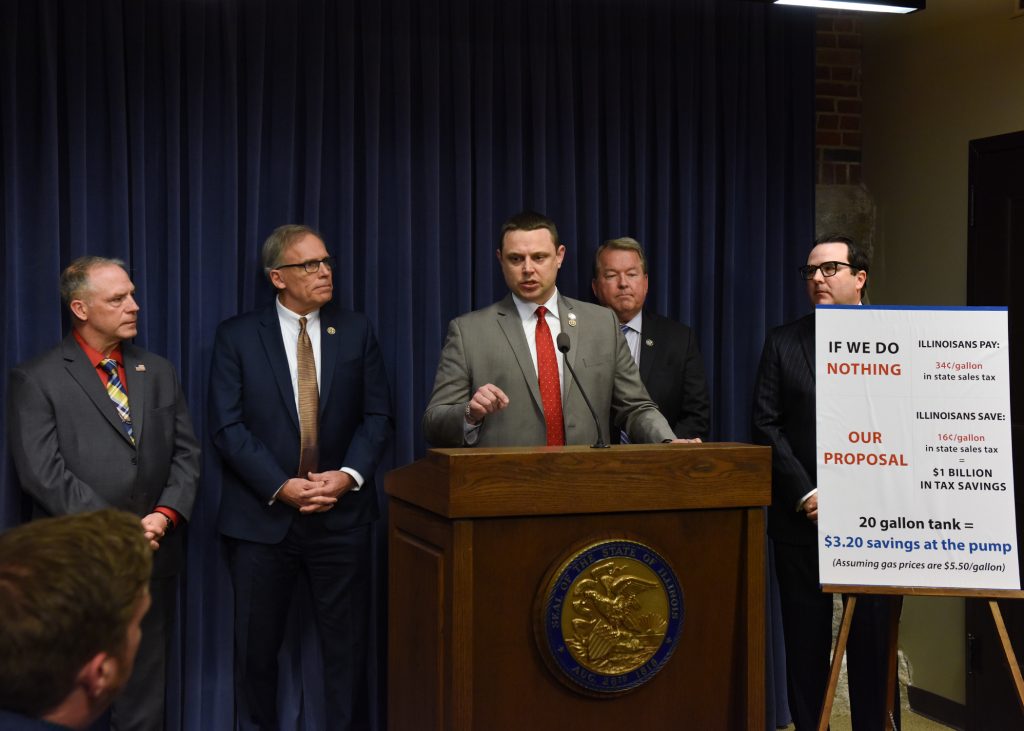 With gasoline prices at the pump topping well over $4 per gallon and expected to continue to climb with projections of over $5 per gallon, State Senator Neil Anderson says Illinois legislators must act immediately to provide relief to consumers. 
Sen. Anderson joined legislators and stakeholders during a press conference at the Capitol on Thursday to call on the General Assembly and the Pritzker Administration to immediately cap the state's sales tax on motor fuel at 18 cents per gallon, which is what consumers were paying last fall before prices started to climb dramatically. 
"Illinois families are struggling to make ends meet," said Sen. Anderson. "Our government shouldn't be benefitting and capitalizing on a crisis that is leaving families in a world of hurt. I am calling on the entire legislative body to take swift action that would provide real relief statewide."
Illinois consumers could expect to save nearly $1 billion over the next fiscal year, or 16 cents per gallon, assuming gas prices are at $5.50 per gallon under Senate Bill 4195. Additionally, the measure would continue to provide adequate funding for Illinois' infrastructure projects.  
"Capping Illinois' sky-high taxes on gasoline would be welcome relief for Illinois motorists and fuel retailers as inflation and geopolitical forces continue to wreak havoc on the economy," said Josh Sharp, CEO of Illinois Fuel and Retail Association.
Illinois is one of just seven states that charge a sales tax on top of the gas tax. While both the state and federal gas taxes are a flat tax, which means the tax does not change with price of fuel, Illinois also charges a sales tax on top of the motor fuel tax.