State's bipartisan capital plan provides funding to extend the life of an historic building, expand community services
A more than century-old building in the City of Fulton will now be able to continue its journey as a Community Center, thanks to a member initiative and grant sponsored by State Senator Neil Anderson and the Illinois Department of Commerce & Economic Opportunity (DCEO). The $350,000 Rebuild Illinois grant will be made to the Fulton Historical Society to help renovate the Fidelity-Drives Building.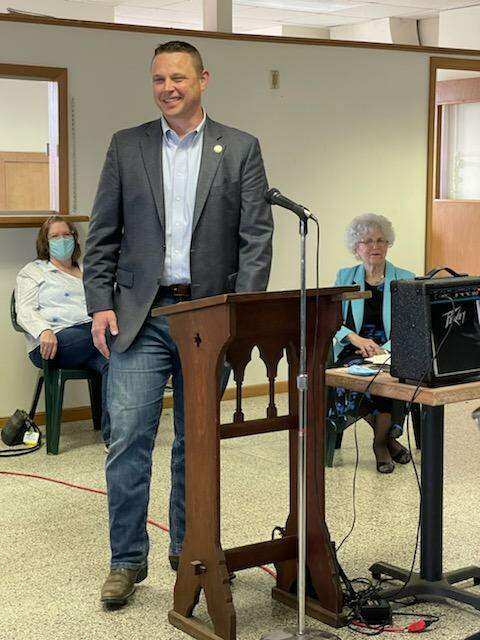 "I have been working to help secure funds for the Fidelity-Drives building as I see the important role in could play in the community," said Sen. Anderson. "Thanks to available capital investment funds and the support and advocacy of many, upgrades will finally be made to this building, history will be restored, and the community will have a unique place to gather." 
Investments in the Fidelity Drive building will begin immediately, with the first phase of the project set to make structural enhancements to improve ADA access, install a new HVAC, improve plumbing, electrical and mechanical systems, and build a new community classroom and learning center.  These investments will in turn support the center in delivering S.T.E.A.M classes, provide space for a Dutch Museum and Mississippi River Museum, and will play a key role in the Fulton Dutch Days Festival.
"On behalf of Governor Pritzker, DCEO is proud to support the renovation and preservation of this iconic building, investing in repairs needed today that will ensure its continued use by the community for years to come," said Sylvia Garcia, Acting Director of DCEO. "Through the state's historic Rebuild Illinois capital program, we are providing crucial infrastructure updates that will protect our community assets, create jobs and unlock investment for all Illinois communities."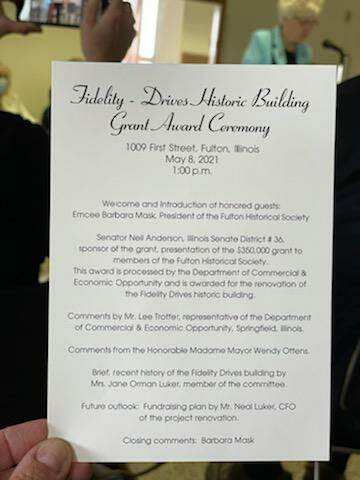 The historic building was constructed in 1912 and sits along the dike of the Mississippi River, adjacent to the authentic Dutch Windmill and Windmill Cultural Center. Throughout the years, this historic building served as the home office for Fidelity Life Insurance Association for 62 years, and Drives, LLC., an agriculture chain manufacturer, for 40 years. Drives LLC. donated the property to the City of Fulton in 2010. After remaining vacant for nearly a decade, the city then sold the building to the Fulton Historical Society in April, 2019. 
"The Fulton Historical Society is grateful to be the recipients of this grant award that will be used to renovate a historic building," said Barbara Mask, President of Fulton Historical Society. "This building will serve the Fulton community for many years as home to an event center with a panoramic view of the Mississippi River, a tourist and community center, S.T.E.A.M. Room for students in our schools, a Fine Arts Exhibit Hall and a Midwest Genealogy Center, along with Museum-like uses. We are extremely grateful to both Sen. Anderson and DCEO who helped to bring this project to life." 
"With this grant, we will finally be able to make the necessary structural and mechanical improvements that will lead to expanded community services and breathe new life into this historic building," said Mayor Wendy Ottens.  "On behalf of our residents, I want to thank Sen. Anderson, the Fulton Historical Society, and the Illinois Department of Commerce and Economic Opportunity for prioritizing this project that will enhance the economic health and quality of life for so many."
"This building sits at an attractive location in the community, and I am thrilled that more than a century later, this building will be able to carry on its legacy of playing an important role to Fulton and its residents," said Sen. Anderson. "A piece of history remains, all while having the potential of bringing economic benefits to the region."