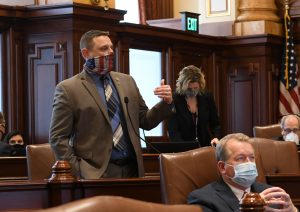 State Senator Neil Anderson was recently appointed to the Statewide 9-1-1 Advisory Board effective immediately, in which he will help to ensure the best possible emergency 9-1-1 systems are in place.
The appointment, made by Senate Republican Leader Dan McConchie, is fitting given that Sen. Anderson will bring extensive knowledge to the board with his more than a decade of experience as a firefighter in the Quad Cities.
"Public safety is extremely important to me, which is why I became a firefighter and paramedic at the Moline Fire Department," said Sen. Anderson.  "I hope my experience and knowledge from these experiences will ultimately help and improve the state's emergency response system."
The Advisory Board is made up of 11 voting members chaired by the Director of State Police. Sen. Anderson is one of four members from the General Assembly that serve as a non-voting member.
The primary responsibilities of the statewide 9-1-1 Advisory Board include:
Advise the Illinois State Police and Statewide 9-1-1 Administrator on oversight of 9-1-1 systems and the development and implementation of a uniform statewide 9-1-1 system.
Recommend improvements to 9-1-1 services throughout the state to the Governor and General Assembly.
Submit a report each March to the General Assembly giving an update of the transition to a statewide 9-1-1 system, recommending any legislative action.
Sen. Anderson's term on the Advisory Board runs through March 2024. The next meeting for the 9-1-1 Advisory Board will be held virtually on April 12, 2021. More information on the Advisory Board can be found here. ­­